Welcome
I am delighted to welcome you to IPP and I am here to assist you in your search in The Mediterranean for the perfect property and country to suit your desires and needs.
I have always adored The Mediterranean and therefore I became a Partner of IPP.
IPP specialises in Mediterranean property markets and has offices in the most desirable locations preferred by buyers.There is an ever increasing demand for second and retirement homes in the Mediterranean.
IPP, The International Partnership has become a market leader in ensuring that overseas buyers, buy safely in the Mediterranean.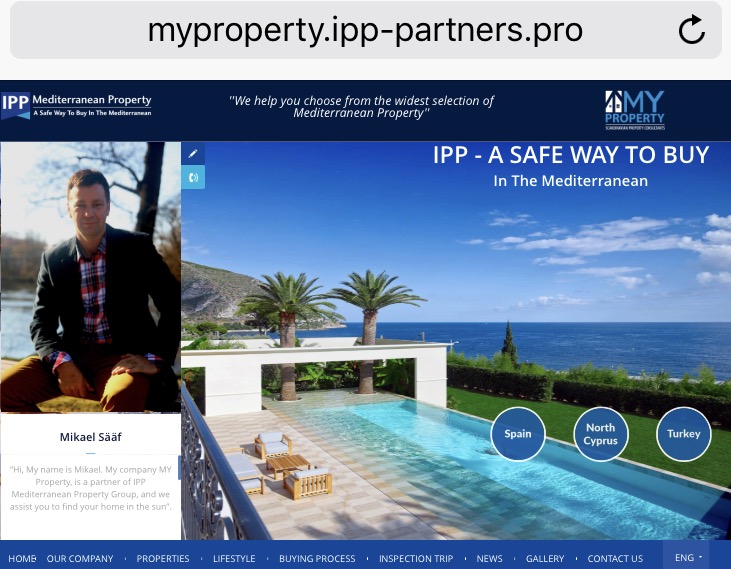 IPP is a professional international organization that specializes in The Mediterranean Property Market. We represent buyers who are considering a second home, retirement or investment purchase.
Buying a property in The Mediterranean is a substantial investment and buyers should consider all available country options before making a commitment. Then it is a matter of selecting the right property for you. There is so much choice and it is important that we as "buyers consultants" make sure that you take your time to make the right choice after a diligent process of selection.
We have many offices throughout The Mediterranean and we have a fantastic selection within our "for sale" portfolio. Our price, style and location range is substantial and once we understand your desires and purpose for purchase, we are able to start to identify the right country, location and property that will suit you.
We organize efficient inspection tours in all The Mediterranean countries and these tours are heavily subsidized by us to allow you to relax at low cost to you, whilst we give you considerable education in the countries of your choice.
We have many satisfied customers with whom you can take references. They will inform you that we are a consultancy style organization that acts totally on behalf of you the buyer and at no point do we pressurize you to buy. On the contrary, we often advise customers to go home before making a decision and perhaps come again for a second look.
Our motto is "Take your time, take our time" as we are proud of the professional, unbiased service that we provide.
In all our offices our staff and consultants are highly experienced and we will hold your hand and guide you safely throughout the selection and buying process.
We confidently say that buying through IPP is a safe way to buy a property in The Mediterranean.
This is a nice video from one of all places in Northern Cyprus – Horse Shoe Bay – Tatilsu….

Alanya….

Costa Blanca.

More info on: www.myproperty.se